Skip Fleshman
MobiHealthNews
January 22, 2021
During the COVID-19 pandemic, pharma companies have had to improvise on how they think about setting up, administering and monitoring trials. New digital health entrants are helping manage these changes, and a few new trends are emerging. The most prominent is the use of technology that enables trial participants to accomplish their regimen remotely from clinical trial sites.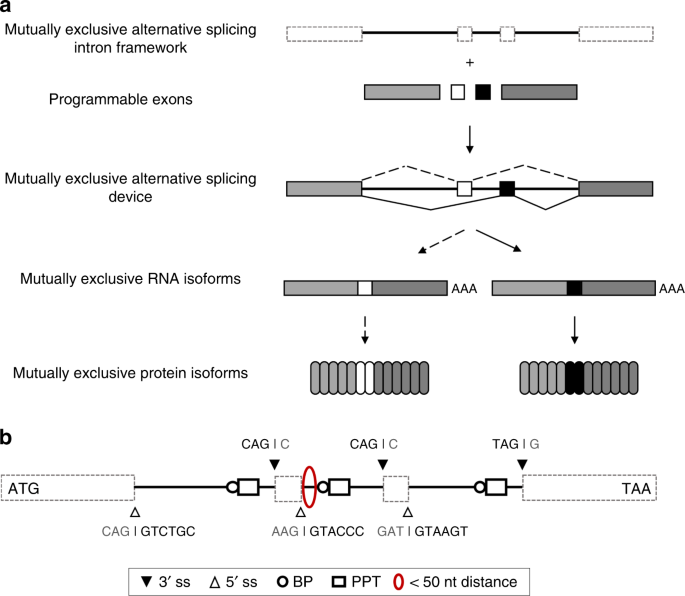 Melina Mathur
Nature Communications
June 17, 2019
Alternative splicing performs a central role in expanding genomic coding capacity and proteomic diversity. However, programming of splicing patterns in engineered biological systems remains underused. Synthetic approaches thus far have predominantly focused on controlling expression of a single protein through alternative splicing. Here, we describe a modular and extensible platform for regulating four programmable exons that undergo a mutually exclusive alternative splicing event to generate multiple functionally-distinct proteins.
Skip Fleshman
MobiHealthNews
Feb 16, 2017
The healthcare market is enormous with over $3.2 trillion of annual spend in the United States in 2015, and the sector has had significant regulatory changes over the past seven years largely driven by the Affordable Care and HITECH Acts.
Luke Lee
Timmerman Report
Feb 16, 2017
There are lots of things people can do with scientific training, and the number of options can seem bewildering at times. And many are seeking some kind of repeatable path to transition into a competitive job market.
Skip Fleshman
MedCity News
Nov 3, 2015
Although the proliferation of $1 billion + mega-funds has made it hard for many venture capitalists to justify smaller Series A investments, I don't think this is the right approach for venture capitalists or for startups. The excess capital creates the wrong incentive structure for long-term success.
Skip Fleshman
VentureBeat
July 17, 2015
Since I first started investing in digital health in 2007, the sector has exploded. Digital health startups raised over $4 billion in venture capital in 2014 and will likely raise even more this year. Based on my observations, a large proportion of these startups are founded by folks who want to apply their background in tech to healthcare. Many are young, successful engineers and product managers who have a negative experience with healthcare and want to fix it. These pitches often start with a personal story. They want to disrupt the system from the inside.
Skip Fleshman
Forbes
January 13, 2015
Telemedicine may just be the biggest trend in digital health in 2015. As a partner focused on digital health investments at venture capital firm AMV, I spend a lot of time crisscrossing the country chatting with leading healthcare providers and insurers about their technology needs. By far the area they are most interested in is telemedicine. For hospitals, expanding telemedicine is a way to cut costs while providing consumers with the convenience they crave. But the idea has been around for a while so why now?
Skip Fleshman
VentureBeat
November 12, 2013
Much has been made of the iPhone 5S's new A7 chip, but the new M7 co-processor is, if anything, potentially more disruptive. The M7 will have an impact on the entire development process of mobile apps, and, from my vantage point, will have a profound impact on digital health
ELECTRONIC HEALTH RECORDS MARKET REPORT
Luke Lee
Whitepaper
August 13, 2013
The healthcare industry is undergoing a meaningful transition to paperless health records that are incentivized by government programs. The goal of achieving an intelligent, more efficient, and cost-saving healthcare system has prompted an era of health information technology. Today, financial incentives and the potential for penalties are the main drivers in adoption of EHR today and will be in the future. Additionally, healthcare information technology companies are establishing beachheads in an EHR market that is dominated by key players. Companies have achieved this by building products that address the need for EHRs, or solutions that integrate with or work around systems that are routinely used today
(Contact info@assetman.com for full report)
Skip Fleshman
VentureBeat
June 2, 2013
Venture capitalists hate investing in hardware startups for a myriad of reasons. Design and iteration are more difficult. Margins are low. Manufacturing issues are unpredictable. Inventory is expensive to hold and manage. Shipping is costly and cumbersome.
But this paradigm is shifting and venture should think twice before dismissing hardware companies out of hand. Here are some reasons why.
Skip Fleshman
Xconomy
March 9, 2012
The healthcare industry has been waiting a long time for its "2.0″ moment. As social networks like Facebook and LinkedIn exploded in the late 2000s, so did e-commerce, enterprise SaaS, and cloud services. Business models, features and strategies have all dramatically evolved in the past decade and the valuations of many IT companies have taken off. But the Health 2.0 transformation is finally here, and it's going to be profound—dramatically changing the way patients obtain health and wellness information, track their progress, and interact with providers and physicians. It's going to be an exciting time in Silicon Valley as next-generation information startups address the multi-trillion dollar healthcare market.
Skip Fleshman
Xconomy
January 13, 2012
2011 has been a big year for health sciences technology and, specifically, mobile health. Venture capital investors, looking for the next big thing, are beginning to invest in companies developing mobile applications in the health and wellness sector. Smartphones are making new health care applications feasible, and one doesn't have to look far to see tangible examples of companies creating some buzz. Fitbit, Lark, Zeo, and Jawbone (UP) have all raised capital and developed hardware solutions often tied to Apple's iOS or Android based phones. Hundreds of companies are targeting weight loss, wellness/ fitness and women's health with software-only applications. Incubators like Rock Health are popping up, bloggers are beginning to write about the sector, and gamification has become a term commonly used in healthcare.
AMV
AMV is a venture capital firm investing in
early-stage digital health, technology and
life sciences companies.
2595 E Bayshore Rd, Suite 240
Palo Alto, CA
650.621.8808
© 2019 Asset Management Ventures
All Rights Reserved